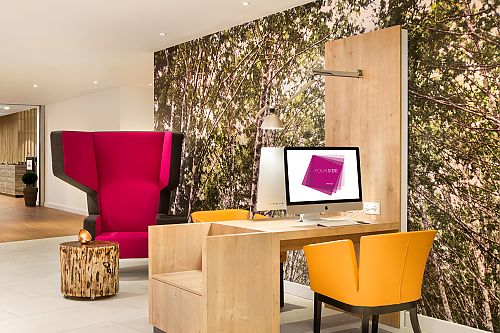 The hotel. The town.
Experience the extraordinary concept of modern business hotels. In the heart of the city centers, we have redefined the term work-life balance for you. The characteristic interior design shapes the visual appearance of the brand, in which lifestyle plays an essential role. FourSide stands for a new generation of hotels: functional, life-affirming, unconventional, locally located and at home in the world.
The human. The communication.
At FourSide you will experience how the useful can be combined with the pleasant: Be right in the middle of the action in the lobby, enjoy a cocktail at the stylish Rudas Bar or a Rudas lunch in the Rudas Restaurant in many of our hotels. In the uncomplicated atmosphere of the centrally located business center, the boundaries between work and pleasure are blurred. Free WiFi, networking and communication are very important at the FourSide Hotel – the young ambience and the innovative, zeitgeist-inspired design of the dynamic hotel brand make your stay unforgettable.